Climate Reporting Awards for Female Journalists in East Africa
ICPAC launches campaign that reflect climate reporting by female journalists in the IGAD region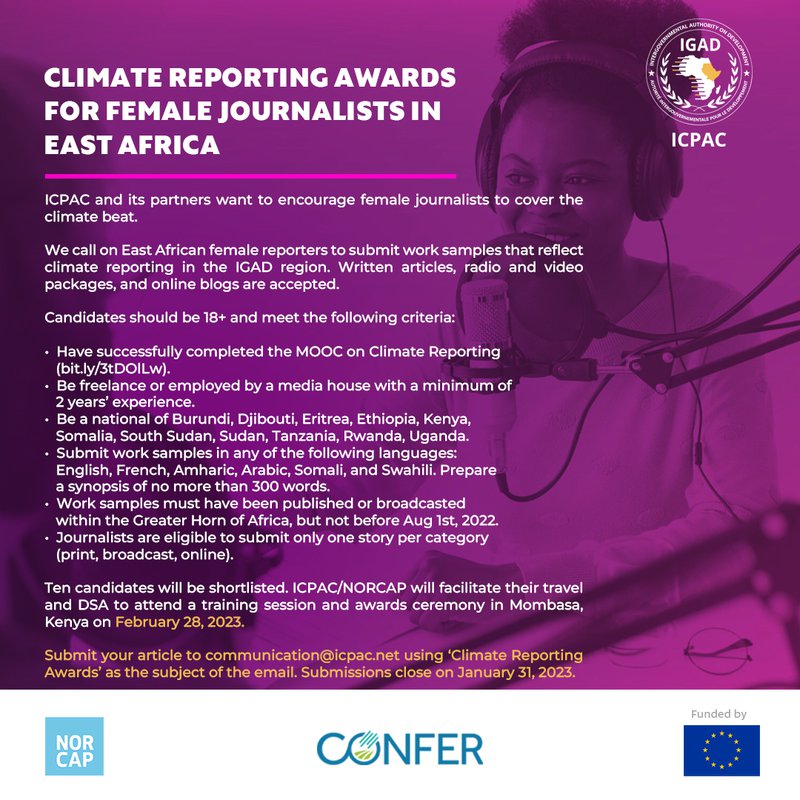 ICPAC and its partners want to encourage female journalists to cover the climate beat. We call on East African female reporters to submit work samples that reflect climate reporting in the IGAD region. Written articles, radio and video packages, and online blogs are accepted.
Candidates should be 18+ and meet the following criteria:
Have successfully completed the MOOC on Climate Reporting (bit.ly/3tDOlLw).
Be freelance or employed by a media house with a minimum of 2 years' experience.
Be a national of Burundi, Djibouti, Eritrea, Ethiopia, Kenya, Somalia, South Sudan, Sudan, Tanzania, Rwanda, Uganda.
Submit work samples in any of the following languages: English, French, Amharic, Arabic, Somali, and Swahili. Prepare a synopsis of no more than 300 words.
Work samples must have been published or broadcasted within the Greater Horn of Africa, but not before Aug 1st, 2022.
Journalists are eligible to submit only one story per category (print, broadcast, online).
Submit your article to communication@icpac.net using 'Climate Reporting Awards' as the subject of the email.
Submissions close on January 31, 2023.
Ten candidates will be shortlisted. ICPAC/NORCAP will facilitate their travel and Daily Subsistence Allowance (DSA) to attend a training session and awards ceremony in Mombasa, Kenya, on February 28, 2023.